Moor Extract Bath
Art. No.: 1651
750 ml
9,58 €
(for every 1 litre = 12,77 €)
Incl. VAT plus shipping costs
Circulation stimulating treatment bath with natural moor.
Supports the treatment of rheumatic ailments, back and joint pain
Plus 25 other natural plant extracts
No dirty residue in the bathtub
The moor bath for the use at home exists already for a long time, but it is rejected by many patients because the black coloured moor mud has a sinister effect and it is in the imagination that these moor baths are dirty, spoil the bath tub and block the sink.
Because the powers of the black moor are indisputable, one should therefore not go without it, the contained moor extract was gently obtained by a special process. Absolutely natural and pure. There is no mud left in the tub.
Valuable components of the moor extract: humic acids, waxes, resins, growth factors. A high-quality bath remedy to activate physical functions and to soothe the skin.
A bath with our Moor Bath Extract stimulates the circulation in the skin and has a relaxing, pleasant effect on the entire body.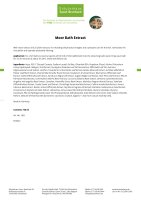 Download product information
Ingredients: Aqua, PEG-7 Glyceryl Cocoate, Sodium Laureth Sulfate, Silt Extract, Oleamide DEA, Propylene Glycol, Alcohol, Potassium Cocoyl Hydrolyzed Collagen, Eucalyptus Globulus Leaf/Twig Oil, Aesculus Hippocastanum Leaf Extract, Lecithin, Tocopherol, Urtica Dioica Leaf Extract, Betula Alba Leaf Extract, Achillea Millefolium Flower Leaf/Stem Extract, Chamomilla Recutita Flower Extract, Equisetum Arvense Extract, Rosmarinus Officinalis Leaf Extract, Salvia Officinalis Leaf Extract, Sambucus Nigra Leaf Extract, Juglans Regia Leaf Extract, Aloe Ferox Leaf Extract, Rheum Palmatum Root Extract, Commiphora Myrrha Gum Extract, Curcuma Zedoaria Root Extract, Gentiana Lutea Root Extract, Angelica Archangelica Root Extract, Camphor, Potentilla Erecta Root Extract, Crocus Sativus Stigma Extract, Myristica Fragrans Kernel Extract, Valeriana Officinalis Root Extract, Cassia Angustifolia Leaf Extract, Cimicifuga Racemosa Root Extract, Carlina Acaulis Root Extract, Acorus Calamus Root Extract, Kaolin, Fomes Officinalis Extract, Myristica Fragrans Aril Extract, Elettaria Cardamomum Seed Extract, Cinnamomum Zeylanicum Bark Extract, Helianthus Annuus Seed Oil, Retinyl Palmitate, Glyceryl Linoleate, Glyceryl Linolenate, PEG-40 Hydrogenated Castor Oil, Phenoxyethanol, Dehydroacetic Acid, Benzoic Acid, Citric Acid, Sodium Chloride, Parfum, Mixture Of Essential Oils (Limonene, Coumarin, Linalool - also from natural essential oils).
Usage: For a full bath put several squirts (20-30 ml) of the bubble bath into the streaming bath water. Enjoy your bath for 15-20 minutes at about 36-38°C.