Lavender Oil
Art. No.: 70
30 ml
6,55 €
(for every 1 litre = 218,33 €)
Incl. VAT plus shipping costs
Is used for body care, aromatherapy, as a sauna infusion, bath essence, room fragrance
For body care and for massages
Lavender oil promotes blood circulation in the skin
Helps to relax after physical and mental exertion
Pure und of high quality
The essential oil contained in the lavender blooms operates especially balancing and relaxing.
Essential oils are volatile fragrance essences which plants store in petals, leaves, fruits, barks, roots and woods.
to improve the fragrance in living areas by susing oil burners
to vaporise in water-filled bowls on any heat sources
for pouring over sauna stones mixed with water
to refresh flower potpourris
Since essential oils increase the skin's light sensitivity this product should not be applied shortly before sunbathing or before using tanning beds!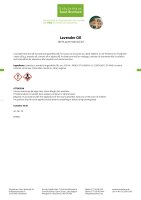 Download product information
Ingredients: Lavender, Lavandula Angustifolia Oil, ext.; CAS-Nr.: 90063-37-9, REACH: 01-2120743651-57-XXXX, Linalool, Geraniol, Limonene, Citronellol, Coumarin, Citral, Eugenol.