L-Carnitine Capsules
Art. No.: 821
180 capsules
18,50 €
from 3 items
now only

16,82 €
Incl. VAT plus shipping costs
L-carnitine is a nutrient natural to the body
L-carnitine plays a role in the energy and lipometabolism of the cells
Each capsule contains 300 mg pure L-carnitine
L-carnitine is an endogenous naturally occurring compound that is found mainly in meat, but also at low concentration in vegetables, fruit or dairy products.
L-carnitine plays a role in the energy and fat metabolism of the cells as organic carrier for the transport of long-chain fatty acids into the mitochondria.

Each capsule contains 300mg pure L-carnitine.

Carnipure™ offers purest L-Carnitine and is a trademark of the Lonza INC., Switzerland.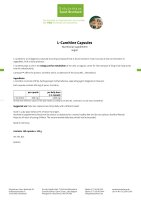 Download product information
Ingredients: L-Carnitine L-tartrate (78 %), Gelatin, separating agent Magnesium Stearate.


per capsule

per daily dose
(= 4 capsule)

per 100 g capsules

L-Carnitine

300 mg

1200 mg

52 g
No Nutrient reference value for the daily intake according to VO (EU) No. 1169/2011 has yet been established.
Suggested use: Take two capsules two times daily with sufficient liquid.