Joint Care Herb Balm
Art. No.: 259
200-ml-jar
18,05 €
(for every 1 litre = 90,25 €)
Incl. VAT plus shipping costs
Balm with marigold oil, comfrey extract, marmot oil, clove oil and menthol
Contains Japanese mint oil and beeswax
Beneficial for skin, muscles and joints
Nurtures, firms and smooths
With marigold oil, comfrey extract, marmot oil, clove oil, menthol, japanese mint oil and beeswax - a very special rarity. A massage with this precious balm has a very soothing effect on skin, muscles and joints.
Cares, smoothes and makes it firm. Stimulates circulation. Improves skin's elasticity and resilience. A massage with Joint Care Herb Balm is a perfect refreshment for strained muscles and joints after sports, physical activity and muscle ache. Seven valuable natural products are combined in this balm that have a lasting effect of inestimable value.

Note: Do not use if you are allergic to plants in the daisy family (Compositae).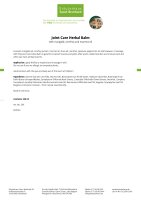 Download product information
Ingredients: Glycine Soja Oil, Cera Alba, Olus Oil, Marmot Oil, Calendula Officinalis Flower Extract, Symphytum Officinale Root Extract, Menthol, Mentha Arvensis Herb Oil, Camphor, Rosmarinus Officinalis Leaf Oil, Eugenia Caryophyllus Leaf Oil, Tocopherol (Eugenol, Limonene, Linalool - from natural essential oils).
Application: As required, aplly thick on skin and rub in well.