Immuno-complex - small glass bottles
Art. No.: 22
3 x 30 glass bottles of 20 ml each
65,04 €
(for every 1 litre = 36,13 €)
Incl. VAT plus shipping costs
Nutritional supplement for support of the immune system.
Contains important vitamins and trace elements such as vitamin C, vitamin B6, vitamin A, Vitamin D and zinc.
A pleasant, fruity and tart taste.
A dietary supplement to support the immune system.

The immune system is one of the most remarkable systems in the human body. An intact immune system consists of a complex network of specialized cells and molecules, which protect the body against 'invaders', such as bacteria and viruses. For that purpose it has a vast army of defenders which are produced in a complex process. In order to stay healthy, vitalised and active, the immune system needs a variety of micronutrients, vitamins and trace elements.
Immuno-complex - small glass bottles contain a carefully formulated selection of these nutrients. They contain essential vitamins and trace minerals such as vitamin C, vitamin B6, vitamin A, vitamin D and zinc, which have been proven to have beneficial effects on the healthy and normal functioning of the immune system. The trace element chromium contributes to a normal metabolism of macro nutrients.
Enjoyable fruity-sour taste.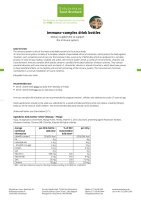 Download product information
Recommended use:
Drink 1 bottle with

white

cap daily from Monday to Friday.
Drink 1 bottle with

blue

cap on Saturday or Sunday.
Immuno-complex drink bottles are not recommended for pregnant women, children and adolescents under 17 years of age.
Ingredients drink bottles "white" (Monday – Friday):
Aqua, Orange Juice concentrate, Mango Puree, Honey, Vitamin C, Zinc Gluconate, preserving agent Potassium Sorbate,
thickener Xanthan, Chrome-(III)- Chloride, Vitamin B6 Hydro-chloride.
Average

nutritional information

per drink bottle =
daily dose

% of NRV recommended daily dose*

per 100 g

calorific content

13 kJ/56 kcal

-

62 kJ/266 kcal

fat

0 g

-

0 g

carbohydrate

3.4 g

-

16 g

- of which is sugar

2.6 g

-

12 g

protein

0.1 g

-

0.5 g

salt

0 g

-

0 g

Vitamin C

500 mg

625

2 g

Vitamin B6

2 mg

143

9 mg

Zinc

15 mg

150

71 mg

Chrome

50 µg

125

0.2 mg
* NRV = Nutrient reference value for the daily intake according to VO (EU) No. 1169/2011
Ingredients drink bottles "blue" (Saturday/Sunday):
Water, orange juice concentrate, mango puree, honey, vitamin E acetate, coenzyme Q10, preserving agent potassium sorbate,
thickener xanthan gum, vitamin D3, vitamin A acetate.
Average

nutritional information

per drink bottle = daily dose

% of NRV recommended daily dose*

per 100 g

calorific content

11 kJ/46 kcal

-

52 kJ/219 kcal

fat

0.1 g

-

0.5 g

- of which are saturated fatty acids

0 g

-

0 g

Carbohydrate

2.3 g

-

11 g

- of which is sugar

2.1 g

-

10 g

protein

0.1 g

-

0.5 g

salt

0 g

-

0 g

Coenzyme Q10

100 mg

**

0.5 g

Vitamin E (alpha-TE)

100 mg / 149 I.U.

833

0.5 g

Vitamin A

750 µg RE / 2500 I.U.

94

4 mg

Vitamin D3

20 µg / 800 I.U.

400

0.1 mg
* NRV = Nutrient reference value for the daily intake according to VO (EU) No. 1169/2011
** No reference value has yet been established