tierlieb Green-lipped Mussel Concentrate 100% · Single feed for horses, dogs and cats
Art. No.: 963
900 g
Was

84,11 €

now only

72,90 €

(for every 1 kg = 81,00 €)
-13%
Incl. VAT plus shipping costs
Pure green-lipped mussel concentrate is a straight feed stuff for horses, dogs and cats
For strong cartilage and stable joints
For easy, economical admixture in the feed
100 % pure green lipped mussel concentrate in powder form, helps maintain strong cartilage and joints. Green-lipped Mussel Concentrate 100 % is economic in use and can be properly mixed into the feed.
New Zealand green-lipped mussels (Perna canaliculus) contains glycosaminoglycans (GAG). Due to their ability to retain water, polysaccharides with their elastic structural components support cartilage, joints, tendons and connective tissue and thus support the mobility of your darling into old age.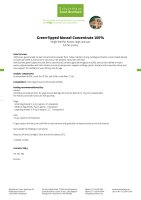 Download product information
Composition: Green-lipped mussel concentrate (100%).
Feeding recommendations/day:
Horses:
According to requirements, for large horses (600 kg) mix into the feed up to 15 g (1,5 scoops) daily.
For Ponies and small horses use half quantity.
Dogs:
- Small dog breeds: 1.5 g (= approx. 0.5 teaspoon)
- Medium dog breeds: 3 g (= approx. 1 teaspoon)
- Large dog breeds: 4.5-6 g (= approx. 1.5 - 2 teaspoons)
Cats:
1.5 g (= approx 0.5 teaspoon)
To get used to the feed, start off with a small amount and gradually increase the dose to the full amount.