Green-lipped Mussel Capsules, 340 Caps
Art. No.: 1850
340 capsules
21,50 €
from 3 items
now only

19,63 €
Excl. VAT plus shipping costs
Each capsule contains 500 mg pure green-lipped mussel concentrate
The green-lipped mussel (perna canaiculus) from New Zealand contains glycosaminoglycanes (GAG)
Glycosaminoglycane is naturally found in connective tissue, joint cartilage and synovial fluid
New Zealand green-lipped mussels (Perna canaliculus) contain glycosaminoglycans (GAG), that occur in humans naturally in the connective tissue, the joint cartilage and synovial fluid ("joint lubricant").
Each capsule contains 500mg of pure Greenshell mussel-concentrate.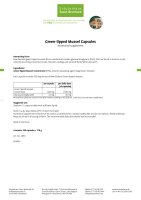 Download product information
Ingredients: Green-lipped mussel extract (83%), gelatin, release agent rice bran extract.
Each capsule contains 500 mg concentrate of New Zealand Green-lip mussels.
Recommended dosage: Take 2-3 capsules daily with sufficient water.
mg per capsule
per daily dose
(= 3 capsules)
per 100 g capsules

Green-lipped mussel-concentrate
500 mg
1500 mg
82,9 g
Glycosaminoglykanes
12 mg
36 mg
2 g
No EU recommendation available for RDA daily requirement.