Goji Capsules
Art. No.: 76
90 capsules
15,14 €
from 3 items
now only

13,45 €
Incl. VAT plus shipping costs
The goji berry is the name given to the fruit from the lycium bush (Chinese lycium, boxthorn).
The goji berry is often nicknamed the "happy berry" and is considered the fruit of well-being.
Each capsule contains 500 mg Goji extract with at least 50 % polysaccharides and 30 mg vitamin C
The goji berry, also known as the Chinese wolfberry, is name given to the fruit from the lycium bush (Chinese lycium, buckthorn). Goji berries have been popular in Asia for a long time now. Some people even attribute the high life expectancy and vitality of the people in some regions to their intake of this fruit. As a result, the goji berry is often nicknamed the "happy berry" and is considered the fruit of well-being.
Sanct Bernhard Goji Capsules are a pleasant alternative to consuming fresh goji berries. The goji extract is supplemented with vitamin C that contributes towards a normalfunctioning of the immune system and, as well as other things, protection of the cells against oxidative stress.

Each capsule contains 500mg Goji extract with at least 50% polysaccharides and 30 mg of vitamin C.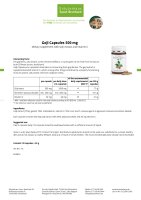 Download product information
Ingredients:
Goji extract (75%), gelatin, filler maltodextrin, vitamin C, filler corn starch, release agents magnesium stearate and silicon dioxide.
Each capsule contains 500 mg Goji extract with 50% polysaccharides and 30 mg vitamin C.
per capsule

per daily dose (=2 capsules)

of the recommended daily requirement
(NRV )*

per 100 g capsules

Goji Extact

500 mg

1000 mg

**

75 g

therefrom polysaccharides

min. 250 mg

min. 500 mg

**

37.5 g

Vitamin C

30 mg

60 mg

75

4.5 g
* NRV = Nutrient reference value for the daily intake according to VO (EU) No. 1169/2011
** No reference value has yet been established
Suggested use:
Take 2 capsules daily. The capsules should be swallowed whole with sufficient liquid.