Glucomannan - Weight loss drink
Art. No.: 12
42 sachets with 3 g each for 14 days
16,82 €
(for every 1 kg = 133,49 €)
from 3 items
now only

15,14 €

(for every 1 kg = 120,16 €)
Incl. VAT plus shipping costs
Glucomannan is a purely plant-based, water-soluble fibre
With its high swelling properties, glucomannan creates a comfortable fullness in the stomach
It also provides a lasting feeling of fullness
Food cravings can be prevented this way
Glucomannan is a purely vegetable, water-soluble fibre consisting of indigestible carbohydrate chains of the Asian Konjac root (Amorphophallus konjac). Thanks to its high swelling properties - up to 50 times its own volume - Glucomannan causes a pleasant fullness in the stomach and at the same time a persistent feeling of satiety. Cravings can thus be avoided! The European Food Safety Authority (EFSA) confirms that within the scope of a low-calorie diet, Glucomannan contributes to a weight loss.
A daily intake of 3 grammes of Glucomannan in 3 portions at 1g each in combination with 1-2 glasses of water before meals and a low-calorie diet leads to weight loss. Furthermore, a daily intake of 4 grammes contributes to maintaining a normal cholesterol level in the blood. Both conditions are fulfilled with our Glucomannan weight loss drink.
Glucomannan - Weight loss drink
causes a continuing feeling of fullness
contributes to a loss in weight
contributes to a normal cholesterol level in the blood
effect scientifically proved by the EFSA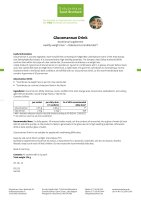 Download product information
Ingredients: Glucomannan (45%), bulking agent Dextrose, Inulin, acidifier Citric Acid, Orange Juice Concentrate, filler Maltodextrin, anti-caking agent Silicon Dioxide, natural Orange Flavour, Vitamin B2.
per sachet

per daily dose
(=3 sachets)

% of NRV recommended daily dose*

per 100 g

Glucomannan

1.35 g

4.05 g

**

45 g

Vitamin B2

2 mg

6 mg

429

67 mg
* NRV = Nutrient reference value for the daily intake according to VO (EU) No. 1169/2011
** No reference value has yet been established
Each sachet contains 1.35 grammes of Glucomannan.
Recommended dose: 3 x daily approx. 30 minutes before meals, stir the contents of one sachet into a glass of water (at least 200 ml) and drink quickly, as the product is likely to gel already in the glass due to its high swelling properties. Afterwards drink another glass of water.