Folic Acid Iodine Tablets
Folic acid and iodide are important for healthy physical and mental development.
In particular those women wishing to have children, pregnant and breast-feeding women should supplement their nutrition with folic acid and iodide
Folic acid contributes towards the normal amino acid synthesis and haematopoiesis
Iodide supports a normal energy metabolism and the cognitive functions
Folic acid and iodide are important for healthy physical and mental development. Amongst other things, folic acid contributes towards the growth of a mother's tissue during pregnancy and towards normal amino acid synthesis and haematopoiesis. Iodide supports a normal energy metabolism and the cognitive functions, i.e. all those processes in the brain which concern thinking, feeling, perception etc. Because Germany is a country low in folic acid and iodide, in particular those women wishing to have children, pregnant and breast-feeding women should supplement their nutrition with folic acid and iodide.

Each tablet contains 0.4 mg (= 400 µg) folic acid and 0.2 mg (= 200 µg) iodine.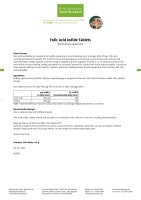 Download product information
Ingredients: Bulking agent Microcrystalline Cellulose, separating agent Magnesium Stearate, Folic Acid (0.154 % ), Potassium Iodide.
Each tablet contains 0.4 mg (= 400 µg) folic acid and 0.2 mg (= 200 µg) iodine.
 

per tablet

(= daily dose)

% of NRV recommended daily dose*

per 100 g tablets

Folic acid

400 µg

200

154 mg

Iodine

200 µg

133

77 mg
*NRV = Nutrient Reference Value for daily consumption according to Regulation (EU) No. 1169/2011
Recommended dosage: Take 1 tablet per day with sufficient liquid.
Folic acid iodine tablets should only be taken in consultation with a doctor in case of an existing thyroid disorder.