Eskimo Care Series Liquid Soap
Art. No.: 1542
250 ml
5,54 €
(for every 1 litre = 22,16 €)
Incl. VAT plus shipping costs
A mild, skin-friendly soap for dry, stressed hands
Moisturising and replenishing care formula
With 5% urea
Free from alkali soaps fragrances and colours
For mild cleansing of dry, stressed hands.
A mild, skin-friendly soap for dry, stressed hands and regular handwashing. The moisturising and replenishing care formula with 5% urea, betaine and sorbitol leaves the hands feeling smooth and soft, without irritating or drying them out. After washing, your hands will feel velvety, soft and supple. Free from alkali soaps fragrances and colours.
For additional care, we recommend applying our Eskimo hand protection cream to the hands after washing.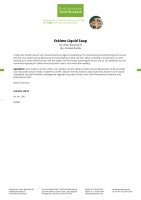 Download product information
Ingredients: Aqua, Sodium Laureth Sulfate, Urea, Sorbitol, Glycerin, Betaine, Sodium Cocoamphoacetate, Lauryl Glucoside, Coco-Glucoside, Glyceryl Oleate, Tocopherol, Lecithin, Sodium Chloride, Sodium Cocoyl Glutamate, Sodium Lauryl Glucose Carboxylate, Ascorbyl Palmitate, Hydrogenated Vegetable Glycerides Citrate, Citric Acid, Phenoxyethanol, Benzoic Acid, Dehydroacetic Acid.