Depilatory Cream
Art. No.: 1396
150 ml
4,54 €
(for every 1 litre = 30,27 €)
Incl. VAT plus shipping costs
For gentle hair removal with nurturing jojoba and marigold oil.
Especially developed for sensitive skin.
Removes disturbing body hair on legs, armpits or in the face simply and fast
The natural substances bisabolol and vitamin E operate anti-inflammatory and soothe redness and irritations
For gentle hair removal with nurturing jojoba and marigold oil. Especially developed for sensitive skin. Removes disturbing body hair on legs, armpits or in the face simply and fast. The natural substances bisabolol and vitamin E operate anti-inflammatory and soothe redness and irritations. Urea is an essential part of the natural moisturizing factors of the skin and is therefore ideal for the care of dry skin. Agents of marigold minimize the inflammatory risk.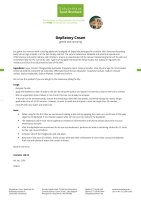 Download product information
Ingredients: Aqua, Calcium Thioglycolate Hydroxide, Propylene Glycol, Cetearyl Alcohol, Urea, Glycine Soja Oil, Simmondsia Chinensis Seed Oil, Ceteareth-20, Calendula Officinalis Flower Extract, Bisabolol, Tocopheryl Acetate, Sodium Cetearyl Sulfate, Sodium Hydroxide, Sodium Phytate, Tocopherol, Parfum.