Cranberry Capsules 500 mg
Art. No.: 1471
90 capsules
15,14 €
from 3 items
now only

13,45 €
Incl. VAT plus shipping costs
The cranberry is the bright red relation to the lingonberry
Intensive, tart-acerbic taste
The secondary plant compounds contained in them, such as proanthocyanidins (PAC), are particularly appreciated.
Already well established in North America, more and more consumers in Europe are swearing by the cranberry; the bright red relative of the lingonberry. Alongside its intensive, acidic-bitter taste, the secondary plant compounds found in the berry, such as proanthocyanidins (PAC), are particularly appreciated. We have added 10 mg of vitamin C that contributes to the function of the immune system and to the protection of the cells from oxide stress as well as 1.4 mg vitamin B12 that supports the conservation of healthy mucous membranes. This function is also important for the bladder.
Each capsule contains 500 mg Cranberry-conzentrate/extract with at least 13 mg Proanthocyanidines as well as 10 mg vitamin C and 1.4 mg vitamin B2.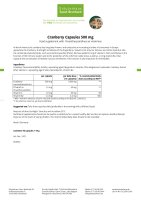 Download product information
Ingredients: Cranberry concentrate (73%), Gelatin, separating agent Magnesium stearate, filler magnesium hydroxide, cranberry extract (2%), filler maltodextrin, vitamin C, vitamin B2.
per capsule

per daily dose
(=3 capsules)

% recommended daily dose according to NRV*

per 100 g capsules

Cranberry-concentrate/extract

500 mg

1500 mg

**

75 g

Of which is Proanthocyanidine

13 mg

39 mg

**

2 g

Vitamin C

10 mg

30 mg

38

1 g

Vitamin B2

1.4 mg

4.2 mg

300

0.2 g
* NRV = Nutrient reference value for the daily intake according to VO (EU) No. 1169/2011
** No reference value has yet been established
Recommended daily dosage:
Swallow (preferably at night) 3 capsules with sufficient liquid.