tierlieb Corpofit
Art. No.: 960
150 tablets
11,18 €
from 3 items
now only

10,03 €
Incl. VAT plus shipping costs
Supplementary feed with calcium, magnesium, vitamins and collagen
To support the joy of movement and performance at any age
For strong nerves
For stable and strong bones, joints, teeth and claws
Supplementary feed with calcium, magnesium, vitamins and collagen, to support the joy of movement and performance at any age. For strong nerves, stable and strong bones, joints, teeth and claws. Supports the metabolism with important nutrients and prevents deficiency symptoms.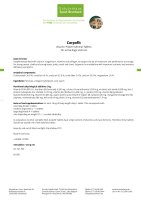 Download product information
Analytical components: Crude protein 36.0 %, crude fat 0.6 %, crude ash 35.0 %, crude fiber 2.4 %, calcium 10.9 %, magnesium 1.8 %

Ingredients: Minerals, collagen hydrolysate, corn starch
Nutritional-physiological additives / kg:
Vitamin D3 40,000 I.U., iron (iron-(II)-fumarate) 4,100 mg, calcium-D-pantothenate 3,200 mg, nicotinic acid amide 3,000 mg, zinc ( protein hydrolysate zinc chelate) 2,170 mg, vitamin B2 (riboflavin) 1,600 mg, β‑carotene 920 mg, vitamin B6 (pyridoxine hydrochloride) 500 mg, vitamin B1 480 mg, copper (amino acid chelate of copper-(II), hydrate) 420 mg, manganese (manganese-(II)-sulphate, monohydrate) 380 mg, folic acid 69 mg, biotin 29 mg, vitamin B12 (cyanocobalamin) 7.9 mg
Note on food supplementation: For each 10 kg of body weight daily 1 tablet. This corresponds with
small dog breeds 1 tablet,
medium dog breeds 2 – 3 tablets
large dog breeds 4 -6 tablets
cats depending on weight 0.5 – 1 crushed tablet/day
In comparison to other complete feed, Corpofit Tablets have a high content of vitamins and trace elements. Therefore, these tablets should not exceed 5 % of the daily feed ration.