Chest Balm Jojoba Oil
Art. No.: 280
100 ml
5,54 €
(for every 1 litre = 55,40 €)
Incl. VAT plus shipping costs
Soothing chest rub with precious jojoba oil, campher, rosemary, mountain pine and eucalyptus oil
Jojoba oil smooths and nurtures skin while preventing dryness
Pure essential oils penetrate into the skin when massaged in
The fresh, natural scent clears your head
The unique formula enriched with precious jojoba oil, camphor, rosemary, pine and eucalyptus oil, is the secret of this soothing chest balm!
Jojoba oil smoothes and nourishes the skin and prevents it from drying out. The pure essential oils are absorbed into the skin by the massaging of chest area, neck and back,evaporate partly due to the body heat, and improve with every breath your physical well-being. The fresh, natural scent helps clear the mind. Additionally massage promotes blood circulation, which has a pleasant warming effect.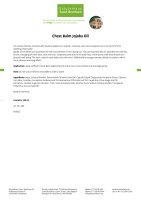 Download product information
Ingredients: Aqua, Cetearyl Alcohol, Simmondsia Chinensis Seed Oil, Caprylic/Capric Triglyceride, Pentylene Glycol, Glycerin, Cera Alba, Camphor, Eucalyptus Globulus Leaf Oil, Rosmarinus Officinalis Leaf Oil, Turpentine, Pinus Mugo Leaf Oil (Limonene, Linalool, Eugenol, Geraniol – from natural essential oils), Xanthan Gum, Sodium Cetearyl Sulfate, Tocopherol, Helianthus Annuus Seed Oil.
Application: Apply sufficient Chest Balm Jojoba Oil onto chest area, neck and back and massage gently.
Note: Do not use on infants and toddlers under 2 years!