Anti-wrinkling Ampoules
Art. No.: 1322
14-day treatment - 14 ampoules of 2 ml
17,65 €
(for every 1 litre = 630,36 €)
from 3 items
now only

16,14 €

(for every 1 litre = 576,43 €)
Incl. VAT plus shipping costs
Soothing, stimulating effects for tired skin
Existing fine lines are softened
Smooths the skin's surface
Your skin radiates new freshness and vitality
Experience the especially high efficacy of pure vitamin C, combined with Alpha-Hydroxy-Fruit acids (AHA) and Anti-Elastase-Complex for the improvement of the skin structure and reduction of wrinkles.

Vitamin C activates the collagen production, reduces an early skin aging and protects the skin against free radicals.

Alpha-Hydroxy-Fruit acids (AHA) remove dead cells and increase the rate of cell renewal in the epidermis. Thereby little wrinkles and unevennesses get reduced.
The Anti-Elastase-Complex blocks the activity of the enzyme elastase, which is responsible for the decomposition of the elastin. Elastin is a decisive component of the fibres, which give the skin its elasticity. That way, the skin aging slows down and the it keeps its elasticity.

Experience the pleasant invigorating effect, that helps tired skin to leave it feeling like new and gives it a vital, bright appearance. Existing little wrinkles get reduced and the leaves the skin's surface smooth. Your skin radiates new freshness and vitality. A treatment experience of the special kind.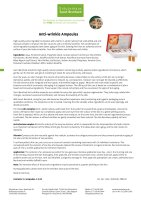 Download product information
Ingredients: Aqua, Pentylene Glycol, Propylene Glycol, Ananas Sativus Fruit Extract, Vitis Vinifera Fruit Extract, Alcohol Denat., Passiflora Edulis Fruit Extract, Passiflora Incarnata Flower Extract, Ribes Nigrum Leaf Extract, Vitis Vinifera Leaf Extract, Sodium Ascorbyl Phosphate, Xanthan Gum, Potassium Sorbate, Disodium EDTA, Sodium Bisulfite.