24 Herbs Oil
Art. No.: 790
100 ml
12,10 €
(for every 1 litre = 121,00 €)
Incl. VAT plus shipping costs
100 % pure essential oil
Can be used as a mouthwash or added to baths
Massage product for sore muscles
For sauna infusions
100 % pure essential oil. 
Due to trademark reasons, product can be only distributed within Germany.


Use only diluted - with numerous applications. e.g. as:
Mouthwash:
Put 1 drop of our 24 Herbs Oil in a glass of tepid water and gargle with it after tooth brushing. It also operates deep in the throat, where it is difficult to reach with the toothbrush.
Bath Additive:
For a full bath put 5-10 drops of our 24 Herbs Oil into the bathwater. Dispense sparingly. The durance for a refreshing bath should not be longer than 15 minutes and for a recreation bath not longer than 20 minutes.
Massage Oil:
Mix 50 ml of carrier oil, e.g. almond oil, with 5-10 drops of our 24 Herbs Oil. A massage with this oil helps with aching muscles and tensions.
Sauna Infusion:
Only 2-6 drops per infusion ladle are enough. Vaporizes with the water - without trace. Promotes the well-being and brings a stimulating freshness into the sauna. Turns the sauna into a naturally healthy recreation.
Avoid contact with eyes and mucous membranes.
Not suitable for children under 6 years.
Essential oils are volatile fragrance essences which plants store in petals, leaves, fruits, barks, roots and woods.
to improve the fragrance in living areas by susing oil burners
to vaporise in water-filled bowls on any heat sources
for pouring over sauna stones mixed with water
to refresh flower potpourris
Since essential oils increase the skin's light sensitivity this product should not be applied shortly before sunbathing or before using tanning beds!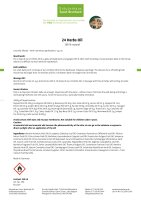 Download product information
Ingredients: Mentha Arvensis Herb Oil, Eucalyptus Globulus Leaf/Twig Oil, Limonene, Rosmarinus Officinalis Leaf Oil, Illicium Verum Fruit Oil, Citrus Limon Peel Oil, Melaleuca Leucadendron Cajuputi Leaf Oil, Foeniculum Vulgare Fruit Oil, Juniperus Communis Fruit Oil, Citrus Aurantium Amara Peel Oil, Carum Petroselinum Seed Oil, Cymbopogon Winterianus Herb Oil, Carum Carvi Fruit Oil, Artemisia Dracunculus Oil, Lavandula Angustifolia Herb Oil, Eugenia Caryophyllus Leaf Oil, Myristica Fragrans Fruit Oil, Salvia Lavandulifolia Herb Oil, Thymus Vulgaris Oil, Coriandrum Sativum Fruit Oil, Mentha Spicata Herb Oil, Apium Graveolens Seed Oil, Pimenta Acris Fruit Extract, Cymbopogon Citratus Leaf Oil, Artemisia Absinthium Herb Oil, Juniperus Oxycedrus Wood Tar, Allium Sativum Bulb Extract, (Limonene, Linalool, Eugenol, Citral, Geraniol, Citronellol, Anise Alcohol, Isoeugenol, Coumarin – from natural essential oils).