Spruce needles Oil Bath
Art. No.: 1236
750 ml
16,14 €
(for every 1 litre = 21,52 €)
Incl. VAT plus shipping costs
Oil bath, beneficial for restless sleep
Supports the body's own defences
Cream nourishment for the skin with natural plant oils
Content: 750 ml
Non-foaming.
Helps pleasantly with unsettled sleep, supports the body's own defences. Cares and creams your skin with natural vegetable oils. Who once has felt the marvellous feeling of relaxation in this spruce needles - oil bath and the pleasant fragrance, does not want to do without it anymore.
So: Treat yourself to the pleasant spruce needles - oil bath after the hurry of the day.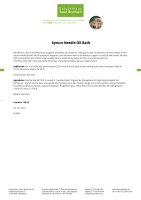 Download product information
Ingredients: Glycine Soja Oil, PPG-5-Laureth 5, Caprylic/Capric Triglyceride, Abies Sibirica Needle Oil (Limonene - made from the natural essential oil), Polysorbate-20, Zea Mays Germ Oil, Triticum Vulgare Germ Oil, Lecithin, Retinyl Palmitate, Tocopherol, Glyceryl Oleate, Glyceryl Linoleate, Glyceryl Linolenate, Propylene Glycol, Helianthus Annuus Seed Oil, CI 75810, PEG-40 Hydrogenated Castor Oil.
Application: For a full bath, add several squirts (20-30 ml) of the oil bath to the running bath water. Enjoy your bath for 15-20 minutes at approx. 36-38°C. Avoid contact with eyes.