Royal Jelly+Blossom Pollen+Vitamin E - glass bottles
Art. No.: 38
30 glass bottles of 20 ml each
32,77 €
(for every 1 litre = 54,62 €)
from 3 items
now only

29,75 €

(for every 1 litre = 49,58 €)
Incl. VAT plus shipping costs
With royal jelly and flower pollen
Alcohol content: 15% vol
1000 mg royal jelly per vial
2000 mg flower pollen per vial
Enjoy two precious gifts of nature, plus vitamin E!
Royal jelly - it makes bees queens and is a very special and an exceptional elixir from nature.
Bee pollen - the natural product gathered by bees is a valuable source of substances for your body.
Alcohol content: 15 % vol.
Content per glass bottle (20 ml): 1000 mg of royal jelly, 2000 mg of blossom pollen, 50 I.U. of vitamin E.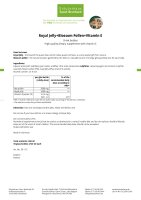 Download product information
Ingredients: Fortified wine, bee pollen (9 %), Royal Jelly (5 %), vitamin E acetate.
Alcohol content: 15 %/vol.


per glas bottle
(=daily dose)

% of the recommended daily dose according to NRV*

per 100 g

Bee pollen

2000 mg

**

9 g

Royal jelly

1000 mg

**

5 g

Vitamin E (alpha-TE)

33,5 mg

(50 I.U.)

279

154 mg
*NRV = Nutrient reference value for the daily intake according to VO (EU) No. 1169/2011
**No reference value has yet been established

Directions: Take one small glass bottle daily. Shake well before use!
Do not use if you have asthma or a known allergy to Royal Jelly.