Room Spray Lemon
Art. No.: 1530
125 ml
6,55 €
(for every 1 litre = 52,40 €)
Incl. VAT plus shipping costs
Refreshing room spray with real lemon oil
Removes unpleasant odours quickly and easily
For all rooms at home, in the car or at the office
Refreshing room spray with real lemon oil. Removes unpleasant odours quickly and easily and provides a fruity, fresh fragrance and a pleasant, natural atmosphere of well-being. For all rooms at home, in the car or at the office. Environmentally-friendly pump dispenser which is economical in use. Simply spray twice or three times into the room and enjoy the fragrance.
Due to trademark reasons, product can be only distributed within Germany.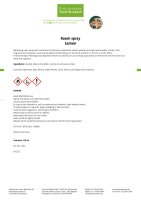 Download product information
Ingredients: Alcohol, Water, Emulsifier, Lemon oil, Limonene, Citral.
Contains: Dipentene, Beta-Pinene, Alpha-Pinene, Citral.
May cause allergic skin reactions.