tierlieb Joint Friend Dog Capsules
Art. No.: 961
130 capsules
14,05 €
from 3 items
now only

12,05 €
Incl. VAT plus shipping costs
Vitaminised food supplement for dogs
Good for connective and supporting tissue such as skin and cartilage
Strengthens the bone structure
The connective tissue and cartilage retain their elasticity and ability to slide
Vitaminised supplementary animal feed with calcium, magnesium, eight important B-vitamins as well as the valuable mucopolysaccharides glucosamine and chondroitin for dogs. These are components of the connective and supportive tissue, such as skin and cartilages and of mucous secretions, that have gliding and protective effects.
Due to the balanced proportion of vitamins and minerals, the bone structure is strengthened, connective tissue and cartilage keep its elasticity and smoothness.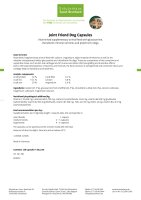 Download product information
Ingredients: Gelatin (27.5 %), glucosamine from shellfish (24.5 %), chondroitin sulfate (14.4 %), calcium carbonate, magnesium carbonate, magnesium stearate.
Nutritional physiological additives/kg: Vitamin C 21,600 mg, nicotinamide 5,700 mg, calcium D-pantothenate 2,160 mg, vitamin B6 500 mg (pyridoxine hydrochloride), vitamin B2 500 mg (riboflavin), vitamin B1 400 mg, folic acid 72 mg, biotin 18 mg, vitamin B12 0.9 mg (cyanocobalamine).
Analytic components:
Crude protein 42 %
Crude fat Crude ash 29 %
Crude fiber 0.1 %
Calcium 5.8 %
Magnesium 3.6 %
Feed recommendation per day:
Supplementation per 10 kg body weight: 1 capsule daily, this corresponds to
- small breeds 1 capsule
- medium breeds 2-3 capsules
- large breeds: 4-6 capsules