Vitamin B12 Supra 200 µg Tablets
Art. No.: 118
240 tablets
6,07 €
from 3 items
now only

5,56 €
Excl. VAT plus shipping costs
Vitamin B12 (cobalamin) influences a series of fundamental metabolic processes in the body
Vitamin B12 plays an important role, among other things, in: the healthy functioning of the brain and nervous system
Vitamin B12 also plays an important role, among other things, in: Cell growth and energy metabolism
Each tablet contains 200 µg vitamin B12
Highly dosed with 200 µg vitamin B12!
Vitamin B12 (cobalamin) has an effect on a number of basic metabolic processes in the body. As independent researchers of the European Food Safety Authority (EFSA) have confirmed, vitamin B12 plays, among other things, an important role for the healthy functioning of the brain and nervous system, cell growth and cell division and in the energy metabolism in humans. In addition, Vitamin B12 supports the formation of red blood cells and keeps the immune system intact and vital. It plays a role in normal neurological and mental function and it also reduces fatigue and exhaustion.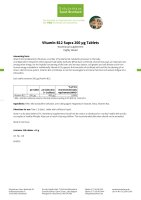 Download product information
Ingredients: Filler: Microcrystalline Cellulose, anti-caking agent: Magnesium Stearate, silica, Vitamin B12.
Each tablet contains 200 µg Vitamin B12.


 

 

per tablet

 

per daily dose
(=2 tablets)

% of the recommended daily requirement (NRV)*

 

per 100 g tablets

Vitamin B12

200 µg

400 µg

16000

91 mg
* NRV = Nutrient reference value for the daily intake according to VO (EU) No. 1169/2011
Directions for use: Take 1 tablet 1-2 daily with sufficient liquid.