Magnesium 400 Direct Powder
Art. No.: 115
60 sachets with 2,1 g each
7,94 €
(for every 100 g = 6,30 €)
from 3 items
now only

7,29 €

(for every 100 g = 5,79 €)
Excl. VAT plus shipping costs
Magnesium takes on diverse, important tasks in the human body
One sachet is already a high dose, meaning that one of these per day is sufficient
Can be taken without liquid and dissolves directly in the mouth
Pleasantly fruity taste
Magnesium is an essential mineral substance primarily found in the bones, the muscle cells and the blood. In the human body, magnesium takes on diverse, important tasks by contributing, amongst other things, to:
Normal muscular function, especially in those who do sport or exercise. Magnesium thus promotes well-being – including at night – with eased, relaxed muscles and calves.
The retention of sturdy, healthy bones and teeth
A healthy energy metabolism and the reduction of fatigue and tiredness
Normal nervous system and psyche functions
Magnesium 400 Direct Powder can be taken without liquid and dissolves directly in the mouth. Pleasantly fruity taste. The 400 mg magnesium sachet is already a high dose, meaning that one of these per day is sufficient! Practical fast and simple, meaning that it is also ideal when travelling.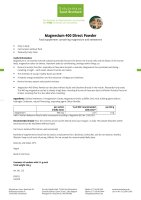 Download product information
Ingredients: Sorbitol sweetener, Trimagnesium Citrate, Magnesium Oxide, acidifier Citric Acid, bulking agent Sodium Hydrogen Carbonate, natural flavouring, separating agent Silicon Dioxide.


 

per sachet
(=daily dose)

% of NRV recommended daily dose*

per 100 g

Magnesium

400 mg

107

19 g
*NRV = Nutrient Reference Value for daily consumption according to Regulation (EU) No. 1169/2011
Recommended intake: Pour the contents of one sachet directly onto your tongue 1 x daily. The powder dissolves within seconds and can be swallowed without liquid.
Can have a laxative effect when used excessively!